Many Americans choose to stay home rather than take their vacation time.
According to a 2016 study conducted by the US Travel Associations' Project Time, 54% of employees ended the year with unused time off, with a total sacrifice of 662 million vacation days! As cited by this Fortune article: Vacation Time: Americans Are Still Terrible at Taking Vacations
The  article explains the percentage of Americans who take vacations were up a little from 2015, but many who were interviewed cite "mixed messages" from their employers about taking time off.
If your employer is okay with you taking vacation time, and you can afford it, AND you're not taking vacation time, what's stopping you?
Maybe this has happened to you…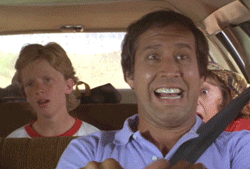 Just kidding LOL!!!
Or, maybe, you're like us. Maybe you just get caught up in the routine. Life. There's always SOMETHING that needs to be done.
But this summer, my husband Billy came to the  realizations in this short video….
Billy decided we would take THE vacation.
It wasn't going to be the 3-day trip we originally discussed.
He wanted to go all out for us, our 7-year-old son, Liam and me. And, he would plan the WHOLE thing. By himself.
Honestly, I was a little nervous about not helping him plan. I had to trust that he would not only plan something that we would enjoy, but that he would coordinate all the details.
That's exactly what he did!
The two weeks leading up to the trip, he dropped little hints to me: (1.) that we were going to the beach, (2.) San Diego (3.) Legoland and Sea World (4.) BEACH DAY (5.) DISNEYLAND! (He waited to tell me about Disneyland because he knows much I love it!)
We decided to surprise Liam THE DAY WE WERE TO FLY OUT! We secretly packed and covered all the luggage in the back of the Hummer with a blanket. We told him we were headed to Sacramento for our every-couple-of months Old Sacramento/Railroad Museum day trip.
Before he knew of the fun ahead…
I watched in amazement as all the details came together: navigation of two airports, rental car pick up, and our Carlsbad Airbnb across from the beach!
As you can see, we were blessed with an amazing time….
One day at Disneyland….
THE best Monte Cristo's on the planet!
Two days at Legoland:
One day at Sea World:
A day at the beach:
Just what our little family of three needed!
THIS is why we need to take vacations…
All we have is NOW!!!
Thank you, Billy, with all my heart!